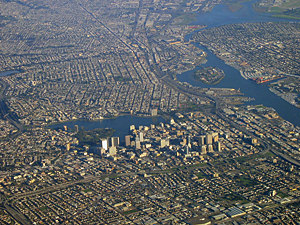 When people ask me where I'm "from," I always pause for a moment, because it could mean a lot of things.
I still have a mild Southern accent, even after 21 years on the West Coast, and sometimes the question is really, "Is that Tennessee or Texas that I hear?" It annoys me when people assume I am from Texas. I have never mis-pronounced "nuclear" as "nukular" in my life, not once. If that's the question, then I say I'm from Williamson County, Tennessee. If I say "Brentwood, TN" then they say, "Oh, Nashville," but when I was a kid, Brentwood was not a suburb. Brentwood was barely a post office when they brought me home from the hospital in 1955, and Nashville was another world.
Even if they are not asking about the accent, questions remain. Most nights I sleep in an apartment in Marina del Rey, CA., one of the many little towns that Los Angeles ate sometime in the last century. It is not really "home," however; it is where I sleep most nights, because Hebrew Union College is too long a commute from Oakland.
My heart is up in Oakland, CA, although it's hard to put a specific address on it. Linda has a home on the San Leandro border where I am found whenever I get a chance to go north, but I've never really lived in it. The homes where I lived in Oakland now belong to other people. My sons live and work in Oakland. Temple Sinai, my Jewish home, is still in Oakland. Many of my dearest friends are there. Most of these things and people are somewhere near Lake Merritt, which was the first place in Oakland that felt like home to me: I drove off the Grand Lake Exit from I-580, lost, looked around me, and loved the place.
Every weekend that I travel up there, I get to see it from the air if the clouds cooperate. The view from Southwest Airlines is beautiful: I see the lake, and the neighborhoods around, and it always makes me happy.